Day Services started in Atchison County in 1975 with an Activity Center operated 2 to 3 days a week by the Atchison County Association for Retarded Citizens (ARC).  At that time approximately 7 clients made rag rugs on a loom.  In 1979 Jerry Henry was hired to be the first Executive Director.   Achievement Services was incorporated, and the program moved to its present location only occupying a small area of the building.  A local business offered contract work for Achievement Services clients and very soon after the first paychecks were issued, the number of clients doubled!
Day Services today include: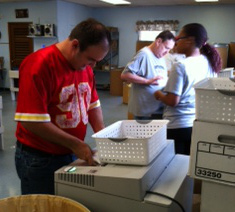 Work Activity provides individuals with light industrial work and assists in building good work habits with the goal of community employment. Contracts from local industry make this goal possible. Current work includes contracts from Fargo, assembling wire harness components for motorcycles; The Hardware House, re-packaging hardware for retail sales; Achievement Services Secure Shred program, providing confidential shredding services to many local businesses; copper reclamation and resale.
Life Skills provides academic skill maintenance in reading and math, building social skills for the workplace and  interpersonal interactions. Other areas of focus are basic cooking, music and tactile therapy, and an integrated retirement program with seniors in the community.
Physical Therapy is provided for individuals needing this support. Water therapy and exercise programs are also provided.